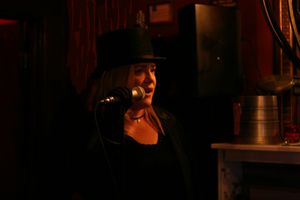 "Old wine in new glasses" this group plays the classics: Ella Fitzgerald, Billie Holiday, Julie London, Miles Davis and countless more, with arrangements all their own.  Engaging, dynamic and perfect for all ages, they are historians whose combined talents reawaken a standard of music quality that is welcoming, engaging and nostalgic brilliance. 

"Miss K (Kelly) has a soulful rich voice that enters thru the ears and immediately steals the heart. Truman Capote said about Judy Garland 'When she sings, she gives so much of herself that I believe a small part of her dies ' This is Kelly".
-Brandon Marsh

"I have been fortunate enough to hear Miss K sing live. The Hotnotes create a wonderful bed of coals for this woman's smoking voice. She sings Jazz like is should be sung:. Our hearts need this music to voice a depth that only she can reach. Treat yourself and put your ears where Miss K and the HotNotes reside. Your heart will, from its place of shattered longing, thank you."
-Sharon Bousquet, Owner, Love Buzz Music
 
Joe Major, Keyboards, mallet percussion.  Joe grew up in a musical household and enjoys playing keyboards, plus his vintage marimba, vibraphone and Hammond organ, and has passed this musical heritage on to several of his many children who sing, write songs, play guitars, piano and various string instruments.  Originally a drummer and timpanist, Joe's taste in music are broad and include jazz, big band music, standards, funk and pop music.   He recently worked with the band, "Savannah," based in Orlando Florida (fronted by his identical twin sons, Warren and James Major), and contributed classic Hammond organ tracks to several of the bands neo-Americana recordings.  Joe is also a regular member of the Swing Fever Dance Band, a 17 piece big band based in Berks County, PA. 

In addition to his day job in banking, Joe enjoys arranging charts for the Hot Notes, and his hobbies include buying and restoring vintage instruments,  children's stuff, wearing Hawaiian shirts at the beach, and trying to play Chopin. 
Steve is from Baltimore, Where he was introduced to jazz on Sunday afternoons at the Famous Ball Room on Charles Street. Originally trained as a classical pianist, he was attracted to the saxophone in grade school because of its expressiveness.  When his young friends began head banging to heavy metal, he went  in a different direction discovering Trane, Bird and DEX and never looked back. He still sits in on piano occasionally, giving Joe a break and enjoying being able to play lots of 'hot notes' all at once.
Steve lives in Wallingford now and practice's architecture by day and designing buildings to exercises the other side of his creative mind. Music has been a lifelong passion and pursuit providing the perfect counterbalance to both the visual nature of design and all things 'daily grind'. He strives for rich tone an lyrical improvisations in his playing; let it flow and try not to overthink it. He is "profoundly at home with Miss K and the Hot notes".
Carl Tucker plays bass and joined the group in 2018.  Originally from Rochester NY, Carl played in a variety of musical genres playing jazz fusion, dixieland, and hosting a regular Sunday jazz jam session.  Later he performed with the Hochstein Music School big band orchestra led by noted jazz educator Dr Carl Atkins.   After moving to the Philadelphia area he played several years with the Len Miller Swing Band before taking a few years off to devote full time to family and traveling for his job in the medical imaging business.
With the desire to devote more time on his instrument, he joined a couple of groups in the area a few years ago, while sitting in on some monthly jazz jam sessions.  Now as regular member of Miss K and the Hot Notes he enjoys the increased playing time while adding his own style to the many classic jazz standards in the bands' repertoire.   
TOM GLENN /GuitaristTom Glenn is an excellent jazz guitarist, composer and producer who has won an EMMY award from the National Academy of Television Arts and BILLBOARD honorable mention for compositions that he wrote and produced.He has performed with many notable artists,including Chuck Berry, Sammy Davis Jr., Nancy Wilson, Alice Cooper, Major Harris Wayne Newton,and many others.He has composed over 20 musical scores for PBS Television,over 40 music scores for NFL Films, and written songs that were recorded by COLUMBIARECORDS, STREETWAVE RECORDS(UK),and many other labels. He currently has music being aired on PANDORA (BEANTOWN SAMBA) and has had songs featured on WRTI Radio from his current album "SHUFFLE TIME".